Unseen: The Lives of Looking (2015)



Dryden Goodwin's first feature-length essay film, focuses on four individuals, each with extraordinary relationships to looking: an international eye surgeon, a NASA planetary explorer, a leading human rights lawyer and the artist/filmmaker himself. Mixing Goodwin's closely observed drawings, live action and intricately woven soundtrack, the film explores different scales, forms and reasons for looking, in a poetic and metaphysically charged journey. Revealed through intimate access is the empathy and dexterity of the surgeon working with the fragility of the human eye; the quest of the planetary explorer to decipher the cosmos and find evidence of life on Mars; and the scrutiny of the British government, by the lawyer, in extraordinary rendition, drone attack and mass surveillance cases. Goodwin's looking and implicit presence links the lives of these probing observers, exposing a kinship between those who live by the sensory rules of observation, a desire to decode in pursuit of knowledge and insight. The film's perspectives range from the minute details of surgery to panoramic expanses of space. Vignettes of strangers and a brief focus on Goodwin's father and son, invite us to contemplate the known and the unknown, the personal and the remote. Exposing the imaginative leaps we take to reveal what might be concealed or out of sight, the film considers both the physical act of looking as well as the tools we use to perceive the world around us and how these form our own identities.

FEATURING: Professor Sir Peng Tee Khaw, Professor Sanjeev Gupta, Rosa Curling, Jeffery Goodwin & Fynn Cole-Goodwin
WRITTEN & DIRECTED: Dryden Goodwin
CAMERA, DRAWING & SOUNDTRACK: Dryden Goodwin
EDITORS: Dryden Goodwin & Jo Cole
RESEARCHERS: Jo Cole & Imran Perretta
PRODUCERS: Jo Cole & Sarah Caddy
EXECUTIVE PRODUCER: Gareth Evans
PRODUCTION MANAGERS: Harriet Masterson & Sukey Richardson
PRODUCTION & SOUND ASSISTANTS: Brada Barassi & Imran Perretta
SOUND MASTERING: Tony Perretta


''Goodwin's 'Unseen: The Lives of Looking' uncovers complex relationships with sight, using a poetic, multi-layered approach........delivering stunning visuals alongside factual explorations of weighty subjects.'' Variety, US edition

''A film that channels a powerful sense of humanity. Enigmatic, sumptuously produced portraits that feel truer and more revealing than a biographical tome.'' Apollo Magazine



Creation of the film has been supported by an Arts Award from the Wellcome Trust, alongside funding from Royal Museums Greenwich, Arts Council England and Red Bee Media.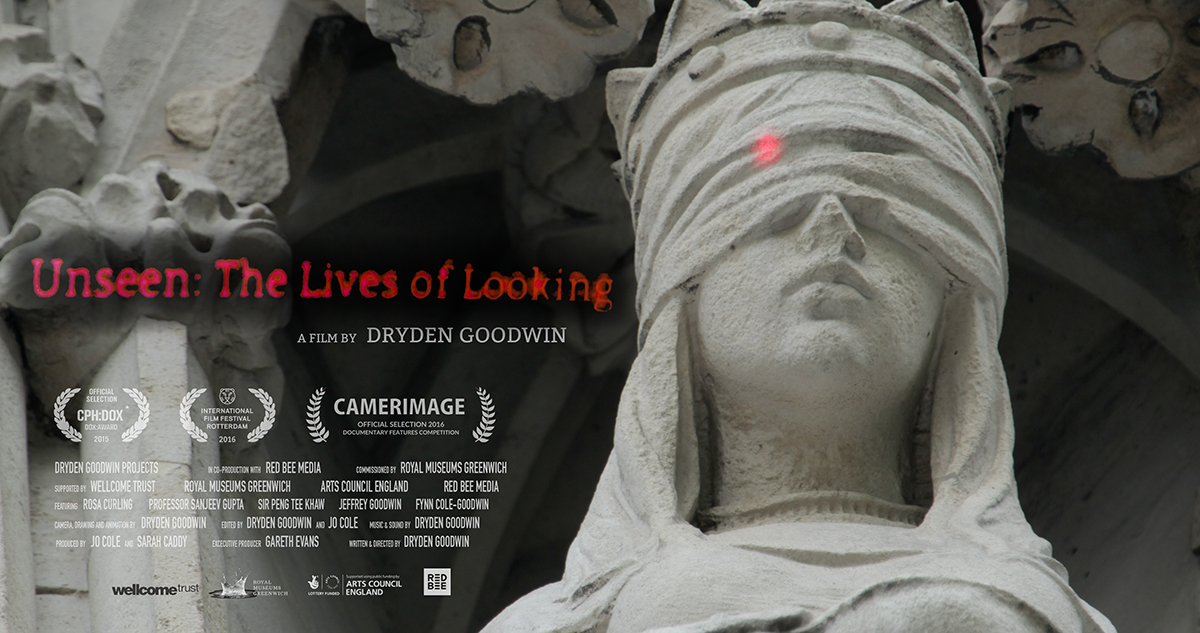 Unseen: The Lives of Looking